There are so many fantastic things going on around the great city of Noblesville this time of year. I don't think I mentioned it before, but Homecoming really made me realize why I have grown to love this town so much. My kindergarten student came home from school each day that week telling me all about the parade and football game on Friday – I love the community pride even at age 5! On Friday of Homecoming week the Noblesville School District dismisses early so that everyone can attend the Noblesville High School Homecoming Parade! I love this town! One of the great things about Andy being a Realtor is the flexibility of his schedule – which allowed us to take our kids to the parade together. Watching so many kids & families come together on the square to support the community is only one of the many reasons why Noblesville is such an amazing place to raise a family. Go Millers!
It was a rare Saturday with Andy not busy in real estate, so we took the kids down to Bloomington to the IU Homecoming game.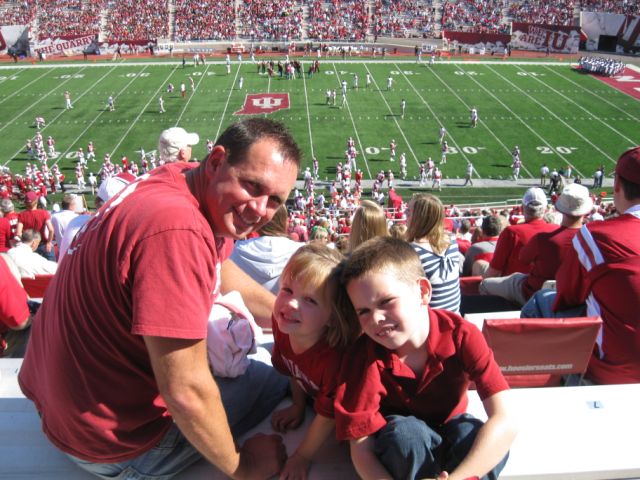 What a beautiful day to be outside and watch some college football! A fun filled day with good friends – until we made it home for the Ohio State game. UGH. I saw a loss coming – just didn't think it would be that ugly. I'm trying to keep a positive attitude (as I try to do most of the time). The painful losses are what make the great wins so great…..and that one was PAINFUL. BUT…I truly believe you can't enjoy the "highs" in life unless you have experienced a few lows – and that goes well beyond football.
Continuing with our football theme – here is another great football related event with Noblesville & Cicero coming together for an excellent cause. Two family oriented communities!
'Cops & Kids' football game set for October 20 at Hare Chevrolet Field
The sixth annual FOP "Cops & Kids" football game (formerly called Clothe-A-Child) will take place at 6:30 p.m. Wednesday, October 20, at Hare Chevrolet Field. There will two separate games with 20-minute halves.
Admission will be $4. All proceeds from sponsors, admission, and concessions will go to fund holiday shopping trips with police officers and local children. This includes money going to the Noblesville FOP through NHS, and the Hamilton County Sheriff's Department through Hamilton Heights.
This year's event will feature a "Powder Puff" game between NHS senior girls and a team from Hamilton Heights. That game will be followed by one between a combined team of Noblesville police officers and NHS faculty members, and a team of NHS junior and senior boys
Enjoy the Colts game today & get outside and enjoy the fall weather!
Amanda
PS. http://8greattowns.com/ – is an excellent source for activities to do with your family around Hamilton County!