The ice is melting! The ice is melting!
This near 70 degree day has me dreaming of pontoon boat rides, floating on my raft & July 4th fireworks over the lake.  Ahhhh! Sounds like a trip to the Indianapolis Boat Show is just what I need to get my boat fix (starts this weekend!)
The weather isn't the only thing warming up – the real estate market is picking up significantly! Have you ever considered buying a lake house? Morse Lake is convientantly located just outside of Indianapolis in Noblesville, IN and Cicero, IN and has homes and condos for sale to meet just about any budget! Morse Lake is home to Wolfies Grill (located at the Morse Lake Marina) and Harbour Trees Golf Club. Harbour Trees Golf Club has also just announced the expansion of the club to include a Beach Club – Olympic size swimming pool, kid's pool, hot tub, work out facility all accessible lakeside by private docks! This is a one of a kind beach club – exclusive to Morse Lake!
Because Morse Lake is a reservoir, water levels can vary significantly. This isn't a big deal, if you are educated when purchasing your home – know how deep the water is around your dock. If the water level goes down would you be able to get your boat out? If purchasing on a channel it is good to know if it has been dredged. Are there any neighborhood restrictions on docks or fences?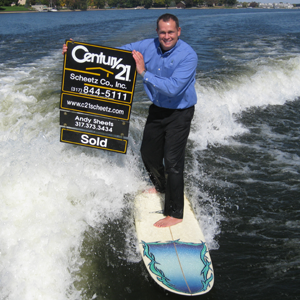 Morse is surrounded by two great communities. Noblesville, a large suburban city, has all the "big box" stores you need along with a quaint and charming downtown square! Noblesville has excellent schools as well as catholic and private school options. The northern half of the lake is surrounded by the town of Cicero. Cicero has a charming, small town feel and is supported by an active community of people. Cicero hosts the annual 4th of July Fireworks celebration – Lights Over Morse Lake – a one of a kind celebration for a town the size of Cicero! The 4th of July fireworks, parade, and community celebration is enjoyed by thousands of people – by land and boat! And…Don't miss the Morse Lake Poker Run to benefit the 4th of July Fireworks. Participants float around the lake drawing cards at designated stop to make the best poker hand – the poker run concludes at Wolfies with prizes, drawings and raffle!
Morse Lake is convenient, affordable & an amazing place to call home!
Click here to see all Morse Lake Homes for sale!
**Offering Seasonal Real Estate Boat Tours of Morse Lake!**
_____________________________________