If you're looking for a home on Morse Lake, you've come to the right place! I live, work & play on Morse Lake and specialize my business in the greater Morse Lake area of Noblesville & Cicero.
If you're looking for a great deal on the lake here are a few tips to finding the best deal on Morse…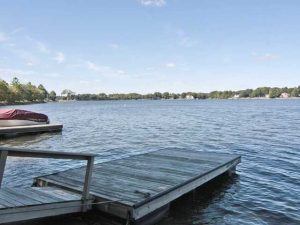 1. Forget about limiting your search to foreclosures & short sales. Some of the best deals I've seen come up in recent years were NOT foreclosures or short sales. There are a very limited number of foreclosures and short sales on the lake and they usually need hundreds of thousands of dollars in repairs.
2. Talk to me. I know about many listings on the lake before they hit the market as well as many that are not even listed right now (but are "for sale"). I preview just about every Morse Lake house that hits the market to stay up to date on inventory. I am constantly on the look-out for my clients who have a specific wish list (main floor master, great view, deep water, under a specific price range, etc…). Simply put – that's my job….to help you find that perfect home. Don't hesitate to ask me to be on the lookout for you.  If you're not local, I can even preview homes for you. Cell 317-373-3434 or Andy.Sheets@Century21.com
3. Homes that are a great deal sell quickly. Period. The secret is finding out about these deals first – so you can see them the moment they hit the market & act quickly. The key is to be set up for an automated search so you will be alerted via email the moment a new home hits the market (or anything in your price range drops the price). This is exactly how my wife, Amanda, & I found our Morse Lake home…. We got an automated email that it hit the market, looked at it the next day & got our offer in first. There was a back-up offer on the house within 24 hours….to this day we still believe we got "the deal of the century"… all because we knew the moment the house hit the market and we acted quickly. The house was NOT a foreclosure, just a great deal! Since we had been receiving notifications about all homes on the lake, we knew this was a price we couldn't pass up! We had become educated buyers just by keeping an eye on the market. We didn't really plan to buy a home when we did, but that special house came up that we couldn't pass up!
Here is what you need to do…. Simply fill in your info below and you'll get an automated email the moment a new Morse Lake property hits the market! In my opinion, this is the best way to find "the deal of the century" – be the first to know when a property hits the market!
To find your Morse Lake dream home sign up for an automated search NOW!
I promise I will not bother you with sales calls,or emails and will NEVER share your email address. You will only receive automated emails with Morse Lake homes. If you see something that you would like to see – call or email me & I can get you in to see it right away… before most people even know it's on the market!
[contact-form 3 "Morse Lake Search"]