I'm now 100% convinced that nobody knows or loves Morse Lake more than my husband, Andy Sheets. The thought of putting the boats in storage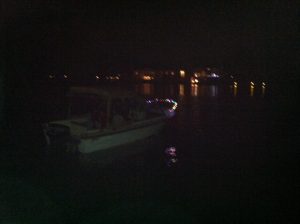 for the winter is just about as depressing as it gets for him (almost as depressing as the fact that Indiana hasn't beat Ohio State in football since the late 80's, but who's counting?) Not being on the water for 4-5 months is not an option for him, which is why this year he came up with a "perfect" solution – A Winter Boat!
For most of us the words winter and boat blend about as well as oil and vinegar, but not for Andy. He has restored an old boat with a small cabin and added a Merritt Supply honeycomb fiberglass and weather proof enclosure. Wait, let me back up for a moment and clarify "restored" – I would define restored as: The perfect guys night out adventure. Not exactly the plush, luxurious, warm, night out of MY dreams.
So on his birthday, Dec 8th, Andy & his winter boat (decked out with Christmas Lights) set sail for their first ever maiden WINTER voyage of Morse Lake. Destination – The Morse Lake Marina & Wolfies, of course (boat was strategically planned out to fit under the Carrigan Rd bridge). He even picked up a few neighbors on the way!
So…Keep an eye out on Morse Lake this winter for the crazy guy in the winter boat! Rides always available!
Now… what happens when the lake freezes? Hmmmmmm…
 See all Morse Lake Homes for sale!
Andy Sheets
Century 21 – Scheetz
317-373-3434  Cell
Andy.Sheets@Century21.com
Your Morse Lake Experts
Offering seasonal real estate boat tours of Morse
(yup, even in the winter!)