Calling all Morse Lake Boaters & Residents!
Boating and February don't exactly mix here in the midwest – unless you're talking about the Indianapolis Boat & Travel Show! There's nothing quite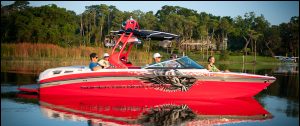 like walking through showrooms full of brand new boats. Ski boats, wakeboard boats, pontoon boats – boats as far as the eye can see! In addition to browsing through the showrooms full of boats, many local vendors are there showcasing products that only lake lovers could truly appreciate – lifejackets, wakeboards, ski's, can coozies, dock parts, rafts,  – mix that with a little Kettle Corn & I'm in heaven!
The highlight for the kids has always been the dock diving dogs! You can catch the training session and then watch the dogs in competition – view complete schedule.
Indianapolis Boat & Travel Show Feb17 – 26 Indianapolis, IN  
Who's going to be crusing Morse Lake in a shiny new boat this summer?
…And don't forget the lake house to go with it!
See all Morse Lake Homes For Sale
See all Geist Reservoir Homes For Sale
Drop me an email if you're looking for tickets – I have a limited # of tickets available to give away! Andy.Sheets@Century21.com