As we were walking out of the CENTURY21 Scheetz awards banquet yesterday, I had one of those moments in life that really make you feel like you are exactly where you are supposed to be.
Let me rewind a few years.
Eight years ago, Andy was in a sales position with a commercial carpet company. Yup, about a glamorous and exciting as it sounds. He took the sales position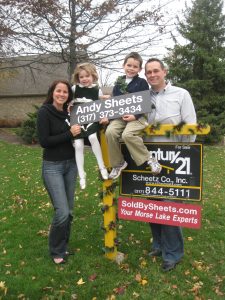 right out of college… it offered good benefits, solid pay & a company car – so he stuck with it. He did well, worked hard & had a box full of achievement plaques. In all honesty, he was bored, unfulfilled and lacked the passion for his profession. (Seriously folks, You really have to search down deep to find a passion for commercial carpet…way deep.)
He always talked about looking for a new job… one that he loved, one that he was passionate about, but time ticked on and on and on…
Until the day our lives changed forever.
February 11th, 2006 – Our daughter was unexpectedly born 15 weeks premature. She was fighting for her life & we would need a small miracle for her to survive. I was visiting family in Ohio when our daughter was born, so we were stuck in a hospital 3 hours away from home…and work. Andy tried to balance keeping up with work, traveling back & forth and dealing with the reality that our daughter may not survive. I won't lie, it was difficult.
Our priority simply became family which meant most everything else was a very distant second place. He spent months driving back and forth from Indiana to Ohio – squeezing in as much work as he could until my frantic calls to hurry back to the hospital.
Four months later, that miracle happened and our daughter was released from the hospital. We returned to "normal" life in Indiana, but our "normal" would never be the same. Work had become such a distant second in those months that quite frankly he dreaded going back and in all honesty I dreaded him going back to a job he was miserable doing. He tried, but his fire was gone. Maybe this was the old "kick in the rear" he needed to motivate him to finally pursue his dream…
A few months later, Andy and his boss met at the Sheridan Hotel at Keystone at the Crossing and "parted ways". We had saved up some money, planned for this and couldn't be more excited for a new adventure, but I would be lying if I didn't admit the fear of the unknown made us both uneasy. Although Andy had been going to night school to get his real estate license, the moment he left that meeting we had no jobs, no income, a new house & two small children.
Yesterday morning Andy accepted The Centurion Award with CENTURY21 Scheetz. Out of a few hundred agents, he was the top producing agent for 2012 and as we walked out of the awards banquet he looked at me and smiled and said "Do you realize this is the exact same place I met with my boss 6 years ago and left my job?" Indianapolis is a pretty big place, what are the odds those two things happened at the exact same place?
CENTURY21 Scheetz is no doubt one of the top real estate agencies in the world, but more importantly is led by people who not only think of each other as family, but put family first. It was very evident in the speeches yesterday from management & agents that a company can be the best, be passionate about what they do and have their priorities right where they should be. Mick Scheetz began the morning talking about family – nothing is more important than family.
I feel we are exactly where we should be, doing something we are extremely passionate about.
Funny how life works out that way sometimes…