Unless you have unlimited funds, buying a home usually involves some prioritizing of what is most important. This is even more true when looking for a home on Morse Lake.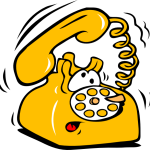 It can't tell you how many times I've received a call that sounds a lot like this:
House Hunter: "Yes, Hello. I would love to find a house on Morse lake."
Andy: "Great, I would be happy to help you. What exactly are you looking for & how can I help?"
House Hunter: "Well, I would ideally like a great water view, deep water dock to keep the boat, nice sandy beach area, main floor master and I'm not very handy so would prefer it be completely updated…. oh and I would like to stay under $250,000"
Yes, I understand but let me be realistic here – THAT IS NEVER GOING TO HAPPEN. Well, I shouldn't say never but if the house you describe does hit the market for $250,000 there will be 100 other people ready to pounce on it faster than a cat on Red Bull. 
The key to finding that dream home on Morse is to be realistic about your expectations – your Morse Lake home search (just like any other home search) is going to mean making a priority list. What is more important and what is realistic at your price range? Yes, I realize most $450K homes for sale in Carmel have granite countertops, but to be realistic most $450 lakefront homes do not have sparkly new granite countertops. What they do have to offer is a relaxing view, boat dock & a vacation in your backyard.
The more realistic & educated you are about the market, the more likely you are to find that dream home at a great price!
So what DO you get for your money on Morse?
Here are a few current examples of what to expect for your money on Morse Lake –
$99,900 – 102 Clarendon Drive – Mallards Pointe. 1 Bedroom condo (760 sq ft) with boat dock included. All units have a fantastic main body of water view in a prime location on the lake & boat dock a short walk out the back.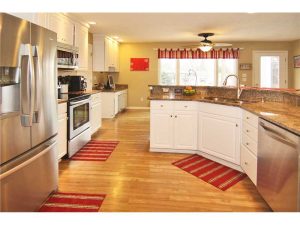 $219,900 – 20860 Waterscape Way  Noblesville, IN – This 1600 sq ft Morse Lake waterfront condo is one of the rare waterfront condos on Morse! Views of the "inlet" and main body from this 3 bedroom condo. Boat dock is just a few steps out the back porch. Perfect for someone looking to enjoy time on the lake & boat and NOT doing yard work and maintaining a house. Monthly HOA fee of $339. Non-waterfront units in Waterscape (with boat dock) typically sell for less than $200,000.
$274,900 – 2469 Cape Henry Ct. Cicero, IN – This 2700 sq ft Morse Lake home is situated on a channel with your own private dock. Limited view of water is available from the house, but the main body of water can be seen from the dock. Priced at $274,900 this an affordable way to get your boat on the lake & start enjoying the summer!
$329,900 – 1429 Lighthouse Point  Cicero, IN – This 3600 sq ft Morse Lake home is completely updated inside AND features a swimming pool. There is no view of the lake from the house, but a short walk down an easement leads you to a private dock on the main body in deep water! At $329,900 this home would be perfect for someone looking to get their boat on the lake, but looking to avoid the complete renovation a home with water views in this price range would likely be in need of. Updates throughout, swimming pool AND lake access – and it won't break the bank! Move in & start enjoying summer fun!
$429, 900 – 120 Cherokee Lane  Noblesville, IN– This 3200 sq ft Morse Lake home has a great room and water view that will most definitely impress you for this price range! A main floor master & flat lot are a few of the other hard to find features of this home. Although the home has been very well cared for & maintained (recently updated mechanicals, windows & exterior), cosmetic updates are lacking (kitchen, baths, etc.. are original). If you have an eye for potential – this home is it! For a home on the Noblesville side of the lake – $429,900 is a steal for fabulous water views!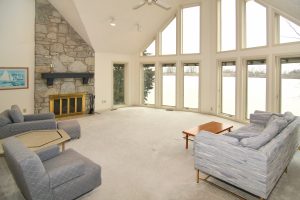 $499,900 – 972 Quiet Bay Circle – Cicero, IN – This 3800 sq ft home on Morse Lake is on the main body of Morse with the main body of water views everyone covets. This new construction home was built and has never been occupied. The price was recently reduced to sell & with the opportunity to own a brand new home on the main body at this price range means this one won't last long. New construction is VERY rare on Morse. Seawall & dock installed.
Over $550 – Most homes over $500 will have main body of water views (homes without good water views in this price range are very difficult to sell) and a wide range of updates. Factors such as water view, updates, water depth, location, etc.. will factor into the price.
I would love to help you begin your Morse Lake home search today!
Andy Sheets, REALTOR
317-373-3434