It's a very difficult job, but someone has to do it! The pontoon is in & ready to be loaded up with Morse Lake Home Seekers!
Remember, Morse is a Reservoir – Water levels change by 6′ or more.
Don't buy a home on Morse Lake without a Realtor who knows the lake!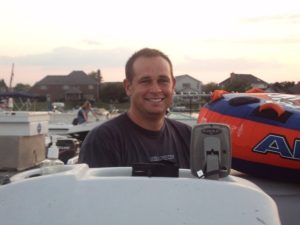 The best way to get a true feeling of the lake is a boat ride. I frequently take my clients out on the lake to see homes by boat, see idle zones, shallow spots, restaurants, parks, etc..
If you're considering Morse, but would like to get a feel for the lake please give me a call! (please, I love to tell people  I'm "working" on the pontoon). I would be happy to get you out on the lake & show you all that Morse has to offer!
Andy Sheets, REALTOR
CENTURY 21 – Scheetz
317-373-3434
Andy.Sheets@Century21.com