Have you ever noticed the number signs posted on docks around Morse Lake and wondered what they are for? Together with the local emergency services the Morse Waterways Association has issued a number to ever resident on the lake. This dock number is tied to a street address in the local emergency system.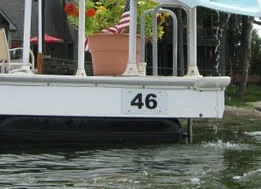 In the event of an accident or incident on the water, you can reference this number and the 911 system will be able to pinpoint your location on the lake. For example "I am stranded and need assistance near dock #50". The emergency management system will be able to cross reference this location with a street address.
This is also an excellent way to label your belongings – kayaks, rafts, skis, boards, etc… so they can easily be returned if lost!
Replacement signs can be purchased through  – Autografix, 700 N. 9th St. in Noblesville. Their phone number is 774-9090.
Using our new Morse Lake Map you can now search address and dock numbers!
Click here to begin your Morse Lake Home Search & See all Waterfront Homes For Sale!
Andy Sheets, REALTOR
CENTURY 21 – Scheetz
317-373-3434
Andy.Sheets@Century21.com