The good news for Morse is that sales prices have been trending up the past few years and I expect that trend to continue. With the US31 improvement project & the "Grand" projects (Grand Park & Grand Junction) going on in Westfield, I believe we will see more and more growth up this direction and a consistent increase in prices around the lake.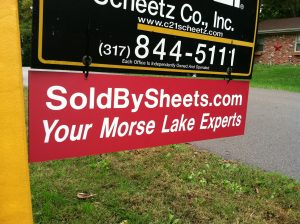 I would always love to see more listings in the $400-$600K range as those tend to sell quickly if they are priced appropriately, especially those that have been updated! I have also noticed an increase in lake buyers and Morse Lake homes sales in the next price range ($600k – $900K) over the past year.
Great things are happening around Morse with the recently completed pedestrian bridge in Cicero, the hard work of the Morse Waterways Association, Harbour Trees Golf & Beach Club's presence, Wolfies @the Marina (a popular staple) & the brand new Lazy Frogg restaurant in Cicero opening February 2015! Our family can't wait to try it out! Our water quality continues to remain good and we had a summer with no decrease in water levels!
It's a great time to call Morse home!
Morse Lake Numbers:
5 Highest Price Morse Lake Homes Sold in 2014
$1.266,600 – 7227 Hart Drive
$825,000 – 417 Chris Drive
$787,500 – 111 Harbour Trees Lane
$760,000 – 105 Harbour Trees Lane
 $745,000 – 209 Edgewater Drive
Average Sales Price – $439,310

Waterscape Condo Community
5 Highest Price Morse Lake Condo's Sold in 2014
$355,000 –  3170 Beach Blvd – Beach Place
$263,000 – 420 Jackson St Unit 24 – One Waterfront Plaza
$255,500 – 20971 Shoreline Ct Unit 404 – The Villas
$245,000 – 420 Jackson St Unit 33 – One Waterfront Plaza
$228,000 – 20712 Newport Drive – Waterscape
Average Sales Price – $157,000
Total Homes & Condos Currently Listed (As of January 21, 2015): 48
16 Condos

32 Homes
8 Currently have accepted offers
4 Have already closed in 2015!
Total Number of Morse Lake Homes & Condos Sold: 
In 2014 – 71

In 2013 – 67
In 2012 – 48
_______
In 2014, I had to privilege of personally selling $8.5 million in Morse Lake Real Estate and closed $18.3 million in total real estate! I live on the lake, I play on the lake and I would welcome the opportunity to help you find the Morse Lake home of your dreams!
Click here to begin your Morse Lake Home Search & See all Waterfront Homes For Sale!
Andy Sheets, Associate Broker
CENTURY 21 Scheetz
317-373-3434
Andy.Sheets@Century21.com